Internships
Every student coming through the AECT program must complete at least three internship credit hours. Internships provide students with opportunities to apply what they are learning and to network with potential employers and professionals in their area of interest. The department believes in the benefits of applied teaching and requiring internships is just one way that we better prepare our students for life after graduation.
Students will enroll in our internship class.
Internship Stories
Colin Keady - Arkansas Department of Agriculture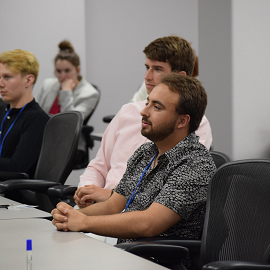 Colin Keady, an agricultural leadership and political science double major, recently interned for the Arkansas Department of Agriculture in Little Rock, Arkansas. Keady's internship at the department of agriculture was part of the MyARInternship program that included internships in each state department and constitutional office, such as the governor's and attorney general's offices.
"I spent a lot of time with the communications department, but I was able to experience and spend time in other areas within the agency," Keady said.
His internship consisted of assisting with the Arkansas Farm and Ranch Stress Assistance Network, which connects producers with national industry leaders to educate them on resources in agriculture.
"It was a great experience that allowed me to see what the department does for Arkansans and how wide reaching their different operations are," Keady said.
Keady was able to meet interns from other parts of state government. Together, they visited with administration officials and legislators, as well as tour sites around Arkansas, such as Central High School, a state prison and the state police training facility at Camp Robinson.
"My favorite part was getting to meet all of the other interns," Keady said. "It was nice to see all the other interns from the governor's office and the other agencies throughout the summer."
State government is much different than our federal government system, and Keady was able to see firsthand how Arkansas's system of government impacts the people of our state.
"We heard from each of the Department secretaries, and I learned a lot about the intricacies of some of these organizations," Keady said.
Keady felt that this experience strengthened his resume by giving him the opportunity to experience agricultural policy and regulatory affairs within the state. The leadership and communications skills he learned in AECT allowed him to excel in his role as an intern.
He encourages students to apply to this internship program to learn more about state government and Arkansas agriculture from a governmental perspective.
Zeb Linebarger - Tyson Foods
Zeb Linebarger, AECT major with a concentration in agricultural systems technology, has been interning at Tyson Foods since the summer. His internship focused on technical maintenance at the Tyson Foods Mexican Original® plant in Fayetteville, which produces tortillas, taco shells and chips for Taco Bell restaurants around the country.
Linebarger focused on preventative maintenance, which consisted of replacing and maintaining equipment during scheduled downtime to reduce the chances of problems in the future.
"I'm learning a lot about the machinery and procedures used in the industry," Linebarger said. "Whenever someone has a problem and calls in, I'll go to that spot and fix the issue that they're having."
After working through the summer, Linebarger was offered the chance to stay on and continue his work, which he thoroughly enjoys. He will start full-time when he graduates in December.
"In the second week, I was under the impression that they wanted me to stay there," Linebarger said. "I love working there, and they definitely take care of us."
Linebarger credits Don Johnson, AECT professor, for setting him up with this internship. Johnson worked with Linebarger in his agricultural systems technology courses and prepared him for this type of work.
"He put me in contact with a guy, and I went on a tour of the plant," Linebarger said. "We set up an interview, and I received a phone call later."
Linebarger encourages other AECT majors to apply at Tyson Foods for internships.
"Normally their interns come from technical schools, but AECT and Dr. Johnson prepared me for the type of work I'm doing at Tyson's," Linebarger said. "All of the professors and instructors I've had these last few years have invested in me and I'm grateful to the department for that."
Codie Jamison - Southwest Research and Extension Center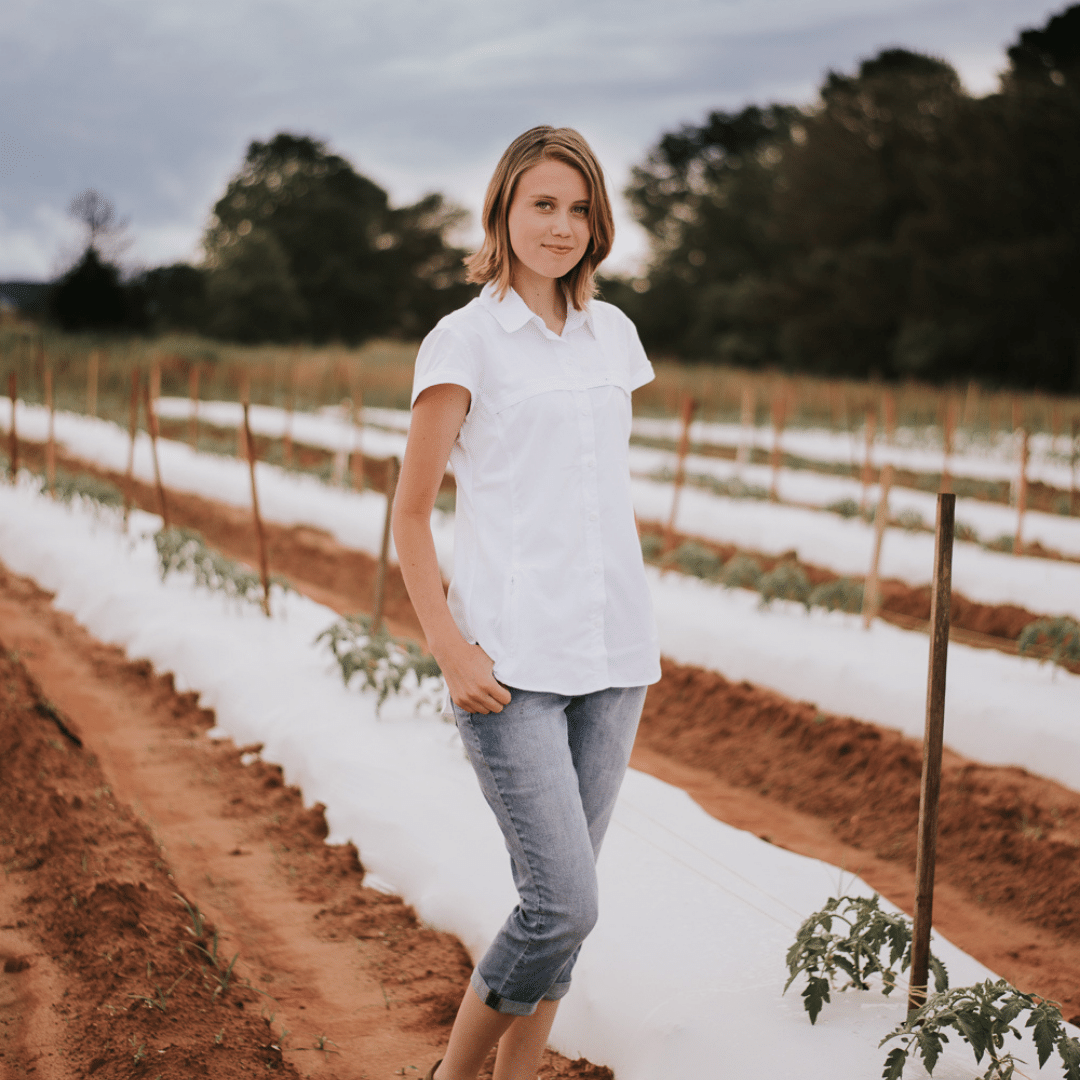 Codie Jamison, a senior agricultural communications major, interned in Hope, Arkansas, as an agriculture technician at the Southwest Research and Extension Center for the University of Arkansas Cooperative Extension Service. Jamison's summer internship was focused on small fruit and vegetable production.
"My primary duties were to take photos of the research crops, create Facebook posts for the Small Fruits and Vegetables page and film and edit educational videos about pests," Jamison said. "The rest of my duties were to record and report the data of the squash and tomato trials."
"I enjoyed getting to learn how to identify and look for certain insects within the crops," Jamison said.
This internship proved to be a great opportunity for Jamison, as it allowed her to utilize her skillset that she has obtained through college. She said she enjoyed getting to use her camera to gather and create public information for the extension office.
"My goals for this internship were to learn more about horticulture and pest management as well as to use my communication skills in a career setting." said Jamison.
Jamison said that students looking for internships should look for something that interests and excites them.
"If you are excited for an internship, it will never feel like work. You're likely to learn more if you enjoy it," said Jamison.
Jamison said she has always wanted to work for the University of Arkansas Extension Service. She wants to pursue a career in extension as an ag agent or in communications.