Overview
Instruction, Outreach and Research Efforts
We offer a Bachelor of Science degree in Agricultural Education, Communication and Technology. Graduates with this degree have a broad knowledge of agricultural disciplines and specific skills related to their area of interest in education, communications and technology. Students can take advantage of a flexible curriculum to prepare themselves for careers as certified agricultural education teachers, extension and industry educators/trainers, agricultural communicators, agricultural technology specialists, and agricultural production and processing managers, to name a few. We also provide the opportunity for graduate studies in agricultural education.
Instruction in the department is theory-based, yet hands-on in many cases. Faculty members share and value the applied learning philosophy on which the land grant university system was built. Laboratory sessions and experimental learning opportunities such as internships are integral parts of the department's instruction efforts.
Each faculty member is committed to outreach, or service, to education, industry, government, and the public. They serve at the local, state, regional and national levels by organizing and participating in activities such as teacher workshops, educational and technical advisory boards, youth activities and competitions, and professional conventions and conferences.
Research in the department focuses on improving agricultural education, communications, and technology globally. All faculty members are experts in their specific areas of interest and contribute significantly to the body of knowledge associated with their disciplines.
AECT Mission Statement
The primary mission of the Department of Agricultural Education, Communications and Technology and its faculty is to develop human capital in agriculture. The Department prepares individuals as agricultural technology transfer specialists in either the public or private sector as agricultural educators, extension agents, industry-based trainers, information specialists, or technology management specialists.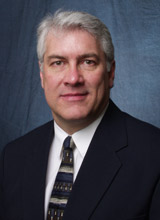 George Wardlow
Department Head
205 Agriculture Building